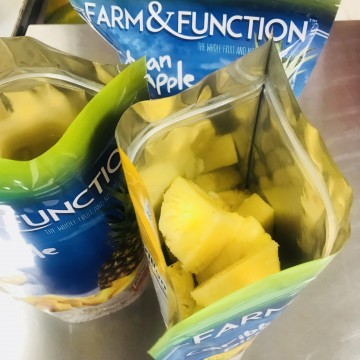 Frozen Pineapple
Farm & Function Fresh Frozen Pineapple! 
This is the second product from our frozen fruit line! This 600g packet contains individually, quick, frozen pineapple chunks, in a re-sealable stand up pouch. 
This product is perfect for making your own smoothies, it can be used as fruit-cubes in your favourite juices or in desserts. The benefits of pineapple are tremendous and provides more than half of your daily vitamin C requirements in one serving!
Support this locally grown & processed product today! Frozen at the peak of ripeness, it always makes the sweetest & creamiest smoothies! 
Check out our recipe on the blog!
There is 1 Review(s)

(5 ratings)
No products at this time.
We are Organic Food
related products